A New Product Launch of theservo elevator traction motor was held ceremoniously by JAPAN SANYO ELEVATOR CO., LTD. at Dehan Hotel in Zhuhai. More than 50 news media and network platform were ..........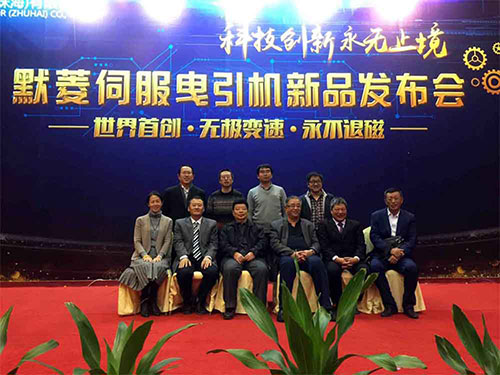 A New Product Launch of the servo elevator traction motor was held ceremoniously by JAPAN SANYO ELEVATOR CO., LTD. at Dehan Hotel in Zhuhai. More than 50 news media and network platform were invited to attend this event and the servo elevator traction motor had a truly broad effect on the elevator industry. After much trial anderror during last 6 years, the world's first servo elevator traction motor has first come out benefiting from military and aerospace technology as reference and ourenterprise technical team and persistent investment. This traction motor is fully capable to eliminate the risk of rapid ascent and descent of elevator and remove competely the demagnetization process comparing with the traditional gearless motor, dramatically improving the safety and comfort of elevator performance. Servo motor is hailed by many industry experts as "the safest elevator component" and has won several national patents and national type testing according to the National special equipment inspection and research institute.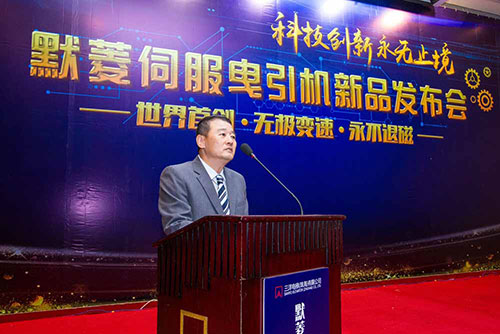 JAPAN SANYO ELEVATOR CO., LTD. has obtained more than 30 proprietary intellectual property rights in which emphasizing on the improvement of product innovation ability. Our company has more than 50 senior engineering and technical personnel engaging in servocontrol technology, electronic and intelligent control, especially more than100 experts in elevator industry field. Meanwhile, our R&D departmentinvites many university experts as technical consultants from Tsinghua University,Beijing University, Xi'an Universty of Technology. In order to overcome the defect of the gearless motor occupying the monopoly position in our market, the research project of the servo traction motor began in 2012 cooperating with Beijinggiant magnetic source company. As the preliminary scheme for eliminating thefunction of permanent magnet in traditional traction motor, in 2013 we use AC asynchronous motor with gearless servo to test and install the machine successfully in our testing tower. After obtaining the testing report of servo tractionmotor form National special equipment inspection and research institute, this motor was popularized by our customer preferences in Guangdong market whichperformance is smooth and high efficient and reliable. Meanwhile, this creation obtained the recognition and attention from the provincial department ofdevelopment and reform, construction committee and Quality and Technology Supervision Bureau in Guangdong. It became also National Innovation Product pressed by the Provincial Media Platform. In 2017 the servo elevator tractionmotor has developed different series for different market requirement and theannual output for the first time is over 3000 units.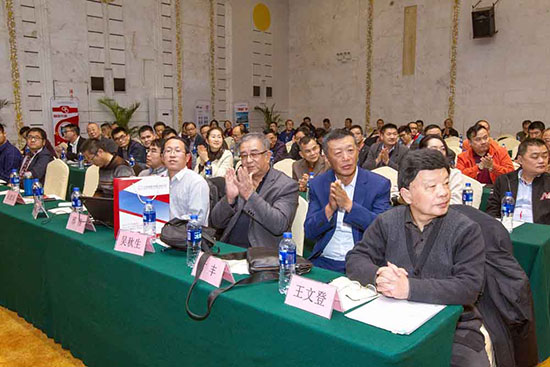 To overcome the two kinds of respective defects from the traditional retarding mechanism with asynchronous tractionmachine and permanent magnet synchronous machine, the servo elevator traction motor can realize the value of the high torque output without the reduction gears. The servo traction motor will become the most safety and reliable motorwith continuously variable transmission as the characteristics: elimating demagnetization phenomenon due to removing permanent magnets, never overspeed of elevatorrising and falling, and variable speed during the elevator movement. On the product launch, Dr Wang indicated that the motor owned the advantages including hightorque output, low heating and energy conservation particularly in the application of high speed and power equipment. Drawing the experience of servo control function in Military and Space technology, the control system is more accurate than the existing permanent magnet synchronous machine avoiding the possibility of high temperature influence and loss control of elevator movement due tomagnetic angle deviation, claiming by Dr. Xingwei as the professor form University of aeronautics and astronautics in Xi'an. Furthermore, JAPAN SANYOELEVATOR CO., LTD. is developing the other new projects including the elevator servo door operator, robot arm and holographic display applied in elevator.